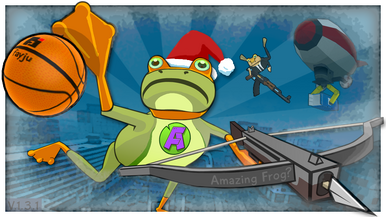 Amazing Frog? Hopping Holidays is an OUYA exclusive sandbox game, featuring the Amazing Frog, in the town of Swindon- "Where the frogs live" Amazing Frog? is developed by FAYJU , the studio behind Cascade and Goldilocks and the 3000 Bears.
OUYA Store Description
Edit
Amazing Frog, the super hero of Swindon, only on OUYA..
Run around as Stunt jumpin' frogs and throw yourself off of buildings and into cars ... why? No idea... we like it.
On your own or with a friend causing destruction to the environment and also your self. Pick some things up and throw them around.
Hopping Holidays 1.3.5
Edit
Note that for this update, the name of Amazing Frog? has been temporarily changed to "Amazing Frog? Hopping Holidays".
Update Notes
Edit
This update is to celebrate the holidays
Adds a giant Toilet to discover in the Sewers
Some Test Cars to drive
and a giant Snow mans Head :0)
Among other updates and enhancements
Ad blocker interference detected!
Wikia is a free-to-use site that makes money from advertising. We have a modified experience for viewers using ad blockers

Wikia is not accessible if you've made further modifications. Remove the custom ad blocker rule(s) and the page will load as expected.