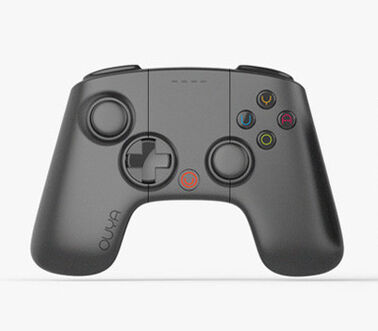 The Matte Black Controller came with the limited edition Matte Black 16GB OUYA, sporting a new, black color scheme. This controller has improved buttons and bluetooth.
The Matte Black OUYA Controller, like the OUYA Controller has 4 buttons of which spell out OUYA, 2 analog sticks with press-down buttons, a "u" system button, a connected DPad, dual RL triggers and shoulder buttons, and a touchpad.
Controller Lag
Edit
This problem tends to occur when using 2 controllers or more, but can also happen if the controller is more than 5 feet away from the console. As of the Chupucabra update, wifi is automatically weakened to reduce controller lag when using multiple OUYA controllers.