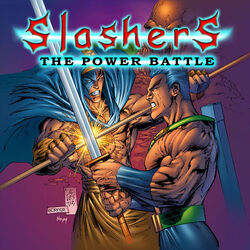 Slashers: The Power Battle is a one-on-one fighting game from Stun Games. It was initially to be released in March of 2014, but after multiple delays, it finally released on June 17.

Get ready for intense 2D weapon fighting... Online! Slashers slashes its way to bring back the old-school 2D fighting games' spirit and challenge with simple game mechanics and tactical game-play.
Challenge players all around the world with "Net-play" mode.
Sharpen your skills with "Eternal Challenge" mode.
Learn game mechanics and twists with "Academy" mode. Access each character's ending and deep story with "Arcade Mode".
Customize your fighter with "Color Edit" mode.
9 Unique slashers await!
External Links
Edit